TAPTES® Model Y Rear Cargo Leather Protector, Model Y 5 Seater Rear Trunk Mats, set of 6pcs
Regular price
Sale price
$89.99
/
---
Free Shipping on Orders Over $69 USD
In stock, ready to ship

Inventory on the way
TAPTES vegan leather cargo mats are designed for Tesla Model Y 5 Seater 2022 2021 2020, Tesla Model Y rear trunk mats
Provides 100% protection on your luxurious suede Tesla Model Y rear trunk.
Luxurious leather trunk mats blend perfectly with your Tesla Model Y interior.
Super easy to install and remove, non-toxic and odorless.
Durable and scratch-resistant, long service life. Also, increase Your Tesla's Resale Value

TAPTES leather cargo mats are compatible with 2020 2021 2022 Tesla Model Y Long Range, Performance, Mayor, and Standard Range. Not only protects your Model Y rear trunk but also upgrades your Tesla's interior style.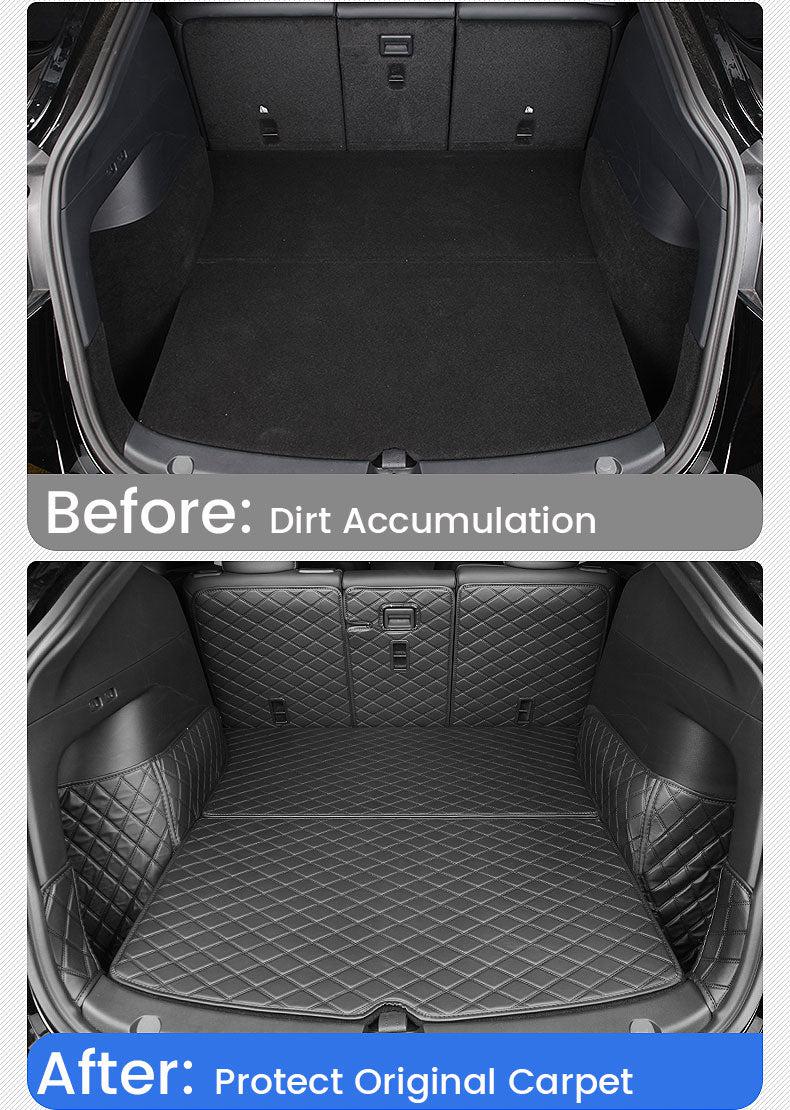 This page is to show you how to track your order after your order gets shipped. After your order gets shipped, you'll receive a shipping confirmation email. The email includes the items that get shipped, tracking number, tracking website, etc.
The tracking website sent to you can't update promptly according to our experience. So we recommend you may track your order on following websites:
1. First website is http://www.yuntrack.com. Input the tracking number sent to you, click the "track my parcel" bar, and you'll get the detailed tracking information.
2. Second website is https://www.17track.net/en. Input the tracking number sent to you, select "auto-detect carrier" of the carrier option, click track and you'll get the detailed tracking information.
3. Third website is your country's postal system. After the package is released from Customs, most TAPTES package will be handed over to and delivered by your country's postal system. 
How to get the tracking number for your country's postal service?
You can use the tracking number, which is included in the shipping confirmation email and track on this site http://www.yuntrack.com then you'll get several numbers. The "Last Mile Delivery Tracking Number" is the one for your country's postal service.
At last, if you can't track by following above steps, please fill in information box below and get in touch with TAPTES Customer Service. We'll reply to you within 24 hours.
Q: How are these mats secured/attached to the car's interior? What keeps them in place?
A: We offer velcro on the side mat. Also, we also offer extra velcro to help the user to make a perfect installation.

Q: Are there mats for the inside of the trunk? Or just the cargo area?
A: There is seat back covers and trunk mat for the cargo area. No floor mat included.

Q:Is this rear trunk mats washable?
A: Since the Tesla Model Y cargo mats is leather, it is recommended to use a damp cloth for cleaning.

Q:Are there cut outs to access the car seat tether anchor points?
A:Yes,the back of middle seat have cut outs.

Q:Does this rear trunk mats fully cover the floor?
A:Yes,this is custom fit cargo mat for Tesla Model Y 5 seater. It same as the pictured. It cover the back seat, trunk area and both side walls.

Q:What is the quality of the this rear trunk mat,Is the bottom non-slip??
A:Our rear trunk mat material is environmentally friendly, thick and wear-resistant, can protect the surface of the car in all aspects.The bottom is made of non-slip material with Velcro which is easy to install and will not move.

Q:If the trunk cargo is fixed ,how easily can you access the compartment underneath?
A:It has that fold in the middle that you can access underneath compartment,Don't need to lift the whole mat.

Q:Did the velcro ruin the original carpet surface underneath?
A:We have tested many time for our Model Y,and when the velcro tear off the original will has little traces of pulling,and it wouldn't hurt the carpet surface.